Living the Dream: Community, Health and Togetherness in 2019
Each year, our Communitas Community Walk strives to create a team-oriented and active event to promote community, health and togetherness. Designed to be accessible for all people, the CommUNITY Walk 2019 is an annual Communitas event. A self-paced, individual, and team pledge walk to promote health and togetherness for everyone; including those with physical, developmental and intellectual disabilities. Below are a series of Dreams from our 2019 Community walk – to check out our 2020 Community Walk, click here.
Spirit of Boston
The Walkamolies (Independent Home Support team) raised money to the Spirit of Boston cruise, and they reached their goal! This year for our CommUNITY Walk, teams picked a "dream" and raised funds to live their dream.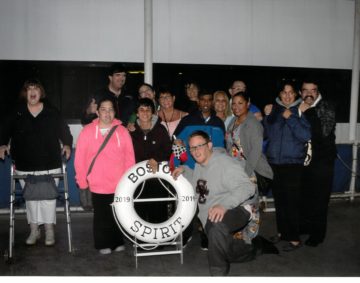 Just last week they all set sail on a Spirit dinner cruise. It was a rainy night, but that didn't stop the fun!
Folks enjoyed an awesome food buffet, danced the night away on the dance floor to a DJ, and taking in the beautiful skyline of Boston. They mingled with their fellow passengers, greeting them when they entered the dance floor, and engaged in meaningful conversations with everybody throughout the night.
Thank you to the Walkamolies for their hard work fundraising; and thank you to our donors and CommUNITY Walk event for helping us live the dream!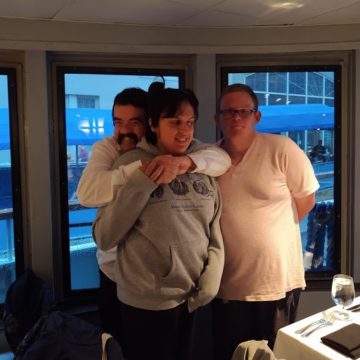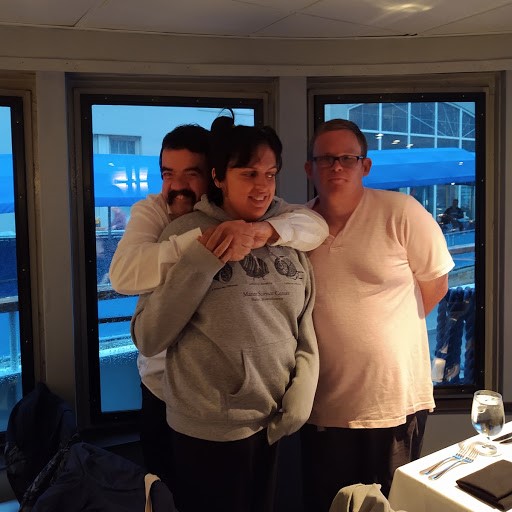 ---
The Beach Boys
When you think of the Beach Boys, you probably think of California, sunshine, the ocean, the beach and of course their music. The folks at the Albion St Residential Services home love all those things and more. They love to rock and have enjoyed seeing band concerts of nostalgia especially those from the 60's and 70's. Lately they have been dreaming about the Beach Boys and set out to find a way to see them on their current tour.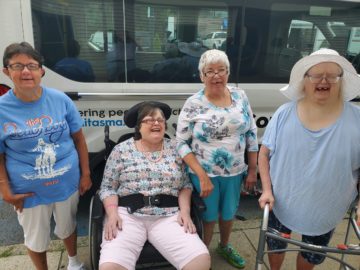 This became their dream and they identified this goal to raise the money through the Communitas CommUNITY Walk. After working hard in seeking donations their dream has now come true! They took a road trip to see the Beach Boys at the Bold Point Park in Rhode Island.
No doubt they enjoyed some "Good Vibrations" at the show!
---
5 Guys of Woodcrest Drive
On August 29th, the guys of Woodcrest Drive began their journey down to Foxborough to see their beloved New England Patriots take on the New York Giants. This was the dream they had selected to fulfill for the Communitas CommUNITY Walk this past summer.
The game was sold out and the guys got to their seats above the north endzone of Gillette just as the game was kicking off. Hot Dogs and sodas in hand, they enjoyed a great first half of football as the Patriots took a commanding 26-10 Halftime lead.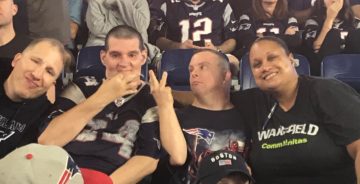 Joel was especially thrilled with the music and dancing that went on during time outs and at halftime. He kept yelling "I love this game, I love this game!" and sang along to the songs.
During the second half, the Giants began to sneak back into the game, but the guys stuck by their team and cheered them on to the end. They danced and cheered: "Go Patriots!"
Although their team lost on a last second throw, the guys at Woodcrest Drive left Gillette winners that night as their dream had come true!
---
Old Orchard Beach
Living the Dream at Old Orchard Beach: The Range Rovers (Residential – Range Heights Road) raised enough money at the CommUNITY Walk 2019, our annual fitness and fun focused fundraiser, to visit Old Orchard Beach for a weekend getaway.
This trip was the group's "Dream", an activity they decided to raise funds towards as a team in the month's leading up to this year's CommUnity Walk.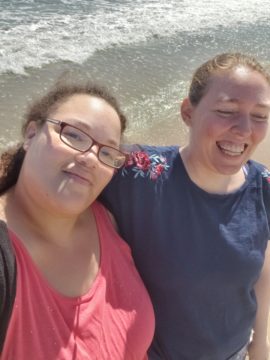 The four ladies and their staff spent an exciting three days and two nights at Beach Villa Cottages and Suites; which is only a five-minute walk from the beach and the Old Orchard Beach famous pier. The pier provided many fun activities for everyone to enjoy! The ladies and staff spent their time at the beautiful beach in the warm sun and sand, as well as exploring the multiple sights, sounds and souvenir shops. They indulged in delicious Maine seafood and appetizing desserts!
---
Wakefield Works it Out
Wakefield Works it Out: Our Wakefield Day Program used some of their proceeds from the CommUNITY Walk to outfit a mini-gym to promote health and togetherness! Exercise…it's important to include regular exercise in our day-to-day lives. Not only does it help in maintaining or achieving a healthy weight, regular exercise also lowers the risk of many chronic health conditions.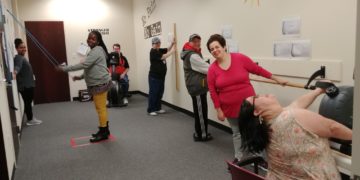 While improving flexibility, mobility and balance, it can also contribute to better posture and improve strength. Understanding the many benefits of regular exercise, Communitas has created an exercise room at our Wakefield day program. Participant Jackie says, "If you can't go to the regular gym you have something close by." Joan agrees, saying, "It's a nice place to hang out."
There are seven specific stations focusing on all areas of the body. Participants move through the room spending a set amount of time at each one. "I like to do the different stations and stuff…it's really cool," says Ashley, a regular user of the new room.
Feedback has been overwhelmingly positive as we spend time in this room with our peers. It's easy to forget we're exercising because we're having so much fun! "It's fun to go with my friends," Mia C. agrees.
---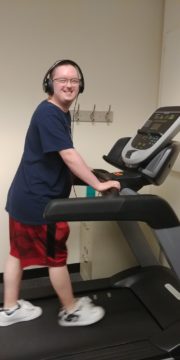 Stay Tuned!
To learn more about our Community Walk, health and togetherness, or the 2019 Living the Dream series, visit the Living the Dream posts on our website, or the Community Walk posts also featured on our website. Stay up to date with our social media accounts, too! Be sure to check out our: