Individualized support for people of all abilities
Communitas is committed to supporting individuals with intellectual and developmental disabilities – and their families – in the community.
We offer Family Support, Residential Services, Day Services, and Recreational Programs – as well as employment and volunteering opportunities – for more than 1,000 families from Everett, Lynn, Lynnfield, Malden, Medford, Melrose, North Reading, Reading, Saugus, Stoneham, Wakefield and surrounding communities.
By eliminating barriers, expanding opportunities and supporting independence, we empower our people to lead full and meaningful lives. Whether you have a child, a transitioning adult, or older adult; we provide a safe environment with services that meet individual needs, whatever they are and however they change, while inspiring dreams.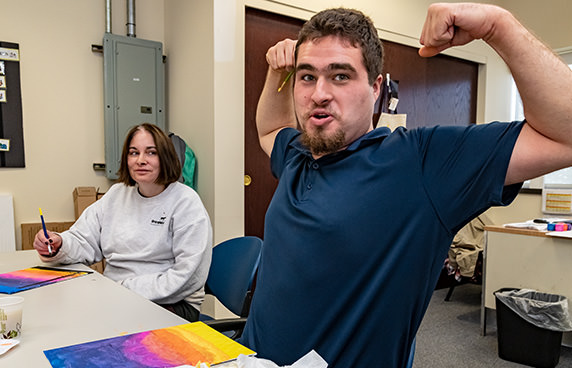 A long history of empowering people
Founded in 1954 and formerly known as EMARC, Communitas has a long track record of advocating passionately while compassionately delivering services for people with disabilities that expand opportunities, empower people, support independence and enrich lives.
Values we live by
Commitment to our people
Communitas is dedicated to delivering individualized, family-centered support, programs and services for people with disabilities, across their lifespan and in their communities. We are inspired by and committed to our people as we meet their changing needs and create new pathways for growth.
Compassion for all
Communitas promotes compassion, equality, respect and community inclusion. We see people as people, and provide a place where everyone belongs, anyone can achieve, and each person plays a meaningful role.
Individualized for independence
Communitas is an agency of abilities, empowering people and inspiring dreams by erasing barriers, expanding opportunities, supporting independence and enriching lives. Our dedicated employees recognize the importance of self-determination and advocate passionately for each individual – so everyone has a choice and a voice.
Strength in teamwork
Communitas develops effective teams by engaging individuals and families as well as community partners and stakeholders – and by truly valuing everyone's contributions. We're committed to employee training and education that advances professional development and enhances our ability to support the people we serve.
High standards in everything we do
Communitas strives to exceed the highest standards of regulatory compliance and fiduciary transparency. And we promise to provide a safe, inviting, accessible, comfortable and secure environment for all.