Closing from Covid-19
Since the Department of Public Health's order on March 25th to close on-site services for all Day Programs, Communitas has slowly prepared for a return to in-person programming. Our agency has modified services alongside this shifting landscape, starting with the introduction of online programming.

It did not take long for Day Services staff to begin forming ideas on how to provide services for individuals we support during Covid-19. With the launch of online programming via Zoom, staff were able to meet with those we support while safely at home. People who normally attend our Day Services programs in Beverly, Wakefield, and Woburn now log in remotely three times a day to have fun, engaging and educational video classes with their Skills Instructors and friends. The rewards are evident, as Wakefield Day Services Director Nicole McEachern tells us, "Many families have shared that the Zoom classes offered a bit of a routine that was so deeply missed and family members found that they also looked forward to the sessions as well!"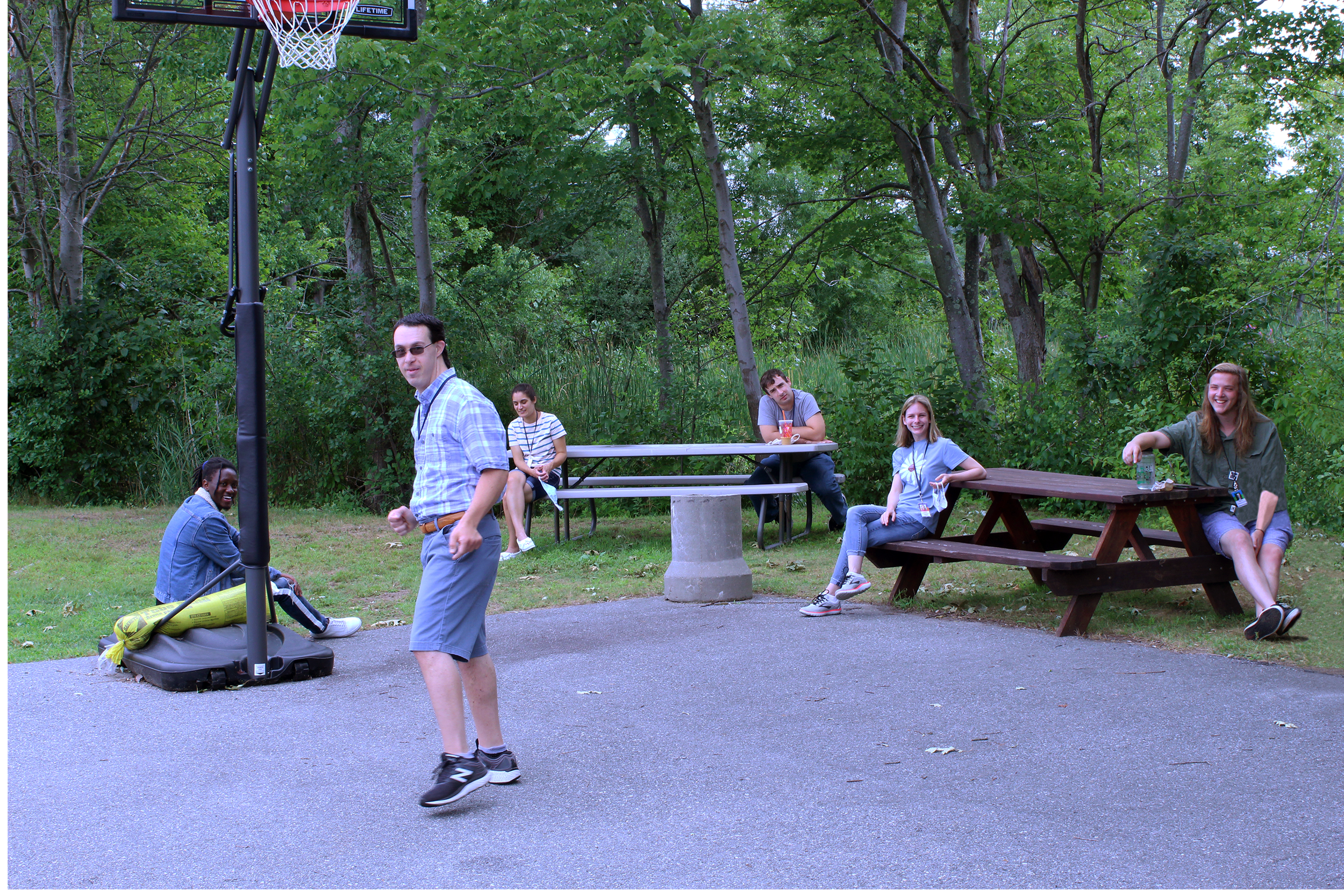 Putting A Plan in Place
While continuing to provide daily remote learning opportunities, staff began planning in-person supports for Day Programs to re-open. Putting together a return to Day Program was no easy accomplishment; Day Service Directors and staff created an entirely new approach to in-person programming, including the creation of a number of new policies and procedures for the operation of Day Services. While we navigate safely during Covid-19, new measures ensure that in-person programming operates with routine prevention at the forefront. As Woburn's Assistant Day Services Director Marisa Cooke shares, "Preparing for re-opening, we had to understand and plan for every eventuality, as information flow was always changing. We've had to adapt. I am beyond proud of my individuals for their flexibility and optimism through this whole process. Safety and health have remained paramount and at the forefront of our programmatic culture."
"The closing process was conducted as smoothly as possible, given the climate and abruptness of the growing pandemic. I am hugely thankful for our CEO, Paul Cote, who chose to close the program swiftly and take all necessary precautions to maintain health and safety of our individuals as well as our staff team. Preparation for re-opening was a huge undertaking, however staff and management teams remained positive and enthusiastic. Staff were able to transition with ease to remote virtual learning and have created the highest quality interactive virtual curriculum. I'm so proud of my team and co-workers." – Marisa Cooke, Assistant Director of Day Services
Behind the scenes of re-opening shows a responsive staff committed to adapting with fortitude. Each department played a pivotal role in re-opening our in-person programming and retaining successful support for individuals. When Programs closed their doors in March, our Residential Services welcomed and integrated Day Services staff into their programming to provide additional support to individuals who were now at home each day. "The staff that were re-deployed to our residential homes have proven their true commitment to Communitas, as they had to quickly learn and adjust to their new roles within the homes," – Nicole McEachern, Wakefield Day Services Director
Meanwhile, our Maintenance, Transportation, and Administration staff worked proactively to support our Residential and Day Services teams to prepare and provide Personal Protective Equipment, and to help build and implement preventative measures in anticipation of re-opening. Alongside Recreation and Family Support's similar transition to online programming, providing adaptive services for those we support has truly been a team effort.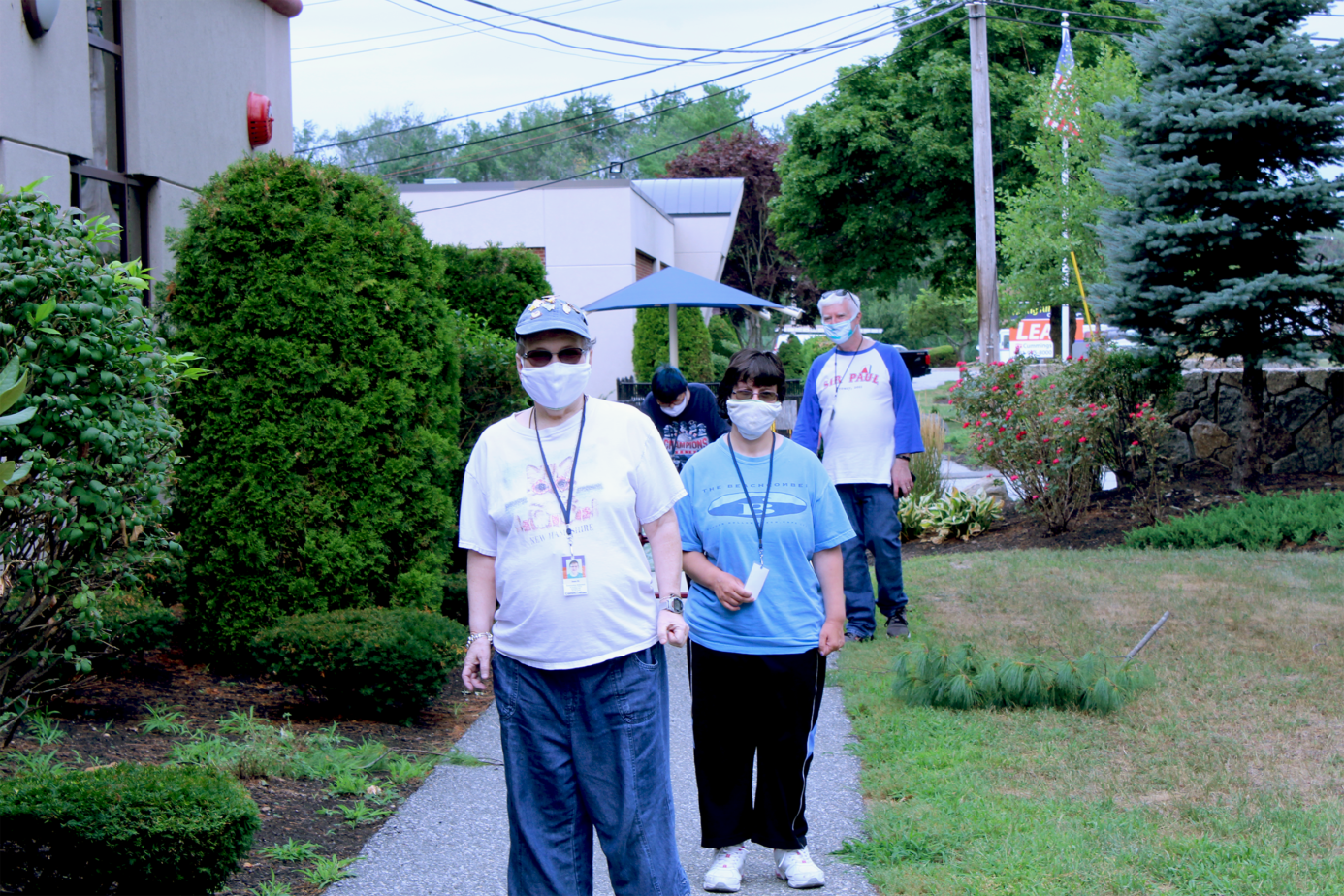 A Return to Programming
On Monday, August 3rd of 2020, the first returning program participants waited patiently on their vans to be screened. Day Services staff met arriving vans ready to complete COVID-19 symptom assessments and to escort each person into the building. Once in the building, each participant receives a fresh face covering, visits the hand sanitizing station, and then travels to their room to begin their first in-person class.
Individuals love this new in-person programming, despite how different it is. Communitas program participants have been adaptive to new changes in the program; their enthusiasm and desire to adapt alongside these changes have made this process a success. As Marisa Cooke, Assistant Director of Woburn Day Services shared, "Providing in-person support, although at a limited capacity, makes my heart so happy! The culture of our program as well as the phenomenal teamwork between staff and participants is a huge component of why I value my job. Seeing smiling faces, laughter and inquisitiveness back in the building is such a joy!"

There is a myriad of preventative measures happening throughout the day. Each site's program nurse is available to check program participants, and anyone entering the program has their temperature checked upon arrival. Participants spend time outdoors with their masks off while maintaining social distance, providing a break from wearing their masks each day.
"Maggie said she loved her day and didn't mind wearing a mask! Before bed she said she was feeling so happy!"
The effort cannot be understated, and the procedures are much different, but Communitas Day Services are still the same at their core. Director of Woburn's Day Services Becky Mann sums it up perfectly, "This experience has challenged us to think outside the box, and while it has been difficult at times, I think it has made us stronger as an agency. I am so proud of the work we have done; not only to provide remote learning but to prepare our programs for in-person services in a safe and fulfilling way. Though it looks quite different than it used to, I am thrilled to have participants back in the program. They have brought life back to the building."