Our annual Better Together Gala took place on Friday, November 20th – from 7 – 9pm. Through a live-streamed event that bidders viewed from their couch; the 2020 Better Together Gala was a memorable and truly heart-felt evening with music, laughs and warmth.
---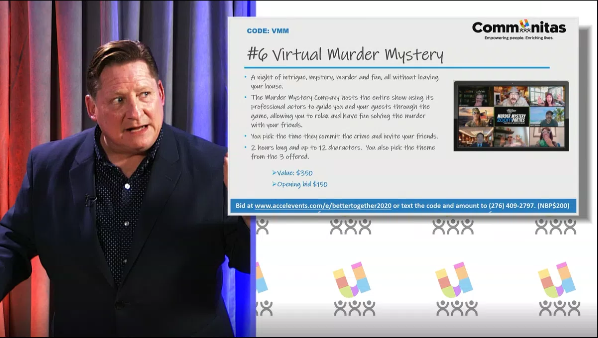 How Did It Happen?
Beginning at the start of 2020, the Gala Committee planned to re-frame the Gala and incorporate our staff, families and individuals more-so than Gala's past. When Covid-19 changed the ability to meet in-person, the Gala Committee began to seek new ways to keep the Gala fun and engaging, all while fundraising for Communitas programming.
And so as the year went on, and the world changed overnight, the Committee chipped away at how the Gala would come alive once again. The night itself was a hit, but there were many hours put into preparation to make the event happen this year. The work of the Gala Committee deserves much recognition for re-tooling our Better Together Gala this year, and giving new direction and inspiration for Gala's to come.
While we're proud of the work of the Gala committee, it simply couldn't have been a successful evening without the enthusiastic participation of our families, staff, individuals and supporters. Contributions from staff and families, individuals and outside support made this Gala truly a community effort. Communitas community shines with the idea, "Better Together."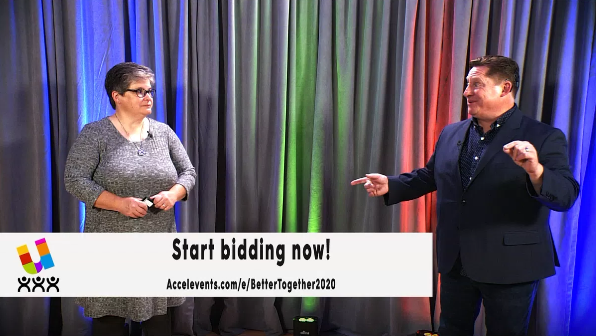 With Many Thanks:
The final product, which you can re-watch on our Youtube channel, looks and sounds astounding. This due to the tremendous work of Thistle Communications, a long-standing technical support partner of our annual Gala. Much like the rest of the world has had to adapt, Thistle began working primarily as Audio / Video technicians for live-streamed events in 2020. Thistle Communications turned our Muni Fitness Center and training room into a well-tuned tv studio, and directed the wonderful show of the evening. Many thanks, and plenty of praises, go to Thistle Communication for their help and longstanding support.
Mike Murray, a stand-up comedian and co-founder of Funny For Funds, generously donated his time for our Gala this year. Mike's energy and ability to whip-up quick bits from thin air brought life into our show. Alongside Communitas Board of Director and Gala Committee Head Toni Russo as co-hosts, the energy for the night was a hit – generating laughs and tugging at heart-strings.
Pull Brand Design helped assemble a creative video for the evening, which can also be watched on our Youtube page. The video debuted during our Gala, and features many participants, staff and family members contributing to an art wall, sharing what being "Better Together" means to each individual.
A special thanks to all of the contributors to the Better Together Gala each year. In a difficult year, many were willing to spend a Friday evening in November with Communitas, and generously help fundraise for our agency and the individuals we support. 100% of our funds raised goes back into programming at Communitas, and because of our wonderful community, we are able to continue to provide experiences and enrich the lives of those we support.

Thank You to our sponsors:
Thank you to our Dream-Maker Sponsors:
Thank you to our Confidence Sponsors:
Thank you to our Purpose Sponsors:
Paul J. Cote, Jr.
Thank you to our Fearless Sponsors:
Laurie Grayson
Jos Healthcare Staffing, Inc.
David Green
While how we work may have changed, the mission and goals of Communitas remain the same. We continue to work every day to empower people, enrich lives and inspire dreams. Bringing new experiences to people with developmental disabilities is at the core of who we are and has always been the foundation of the services we are proud to provide.
Our missions is to meet individual needs – whatever they are and however they change – while inspiring dreams. We advocate passionately while compassionately delivering services and programs that expand opportunities, empower people, support independence and enrich lives.