Julie Morabito is passionate about cleaning. This is evident on any work day as soon as she walks into the building. With every task she takes on, Julie brings with her a positive-ness and can-do attitude; a trait that any business owner would like to establish in all their employees. Julie's joyful outlook seems to be her natural way of going about her business day to day.
Julie is a team member of the Wakefield Career Services Cleaning Crew who work at the Boys & Girls Club of Stoneham and Wakefield. She's on a rotating schedule with six other team members who clean the organization's Stoneham Office, Clubhouse and Teen Center, as well as their Wakefield Clubhouse. Currently, Julie has been focusing on the Stoneham facilities, stating that her favorite is the Teen Center in Stoneham. When asking Julie what tasks she likes best, Julie replied: "cleaning bathrooms, sweeping and vacuuming."
When asked what her secret is to her cheerful outlook, Julie replied, "I'm a happy person. I like to have good days".
In her free time, Julie also helps out at home with chores such as vacuuming and cleaning the living room and kitchen, as well as keeping her room neat. For fun, Julie shared that she enjoys playing with her dog Adrianne and dancing and bowling with the Wii game. She also likes animals, especially dogs, cats, horses and pigs, adding that she would like to work with animals in the future.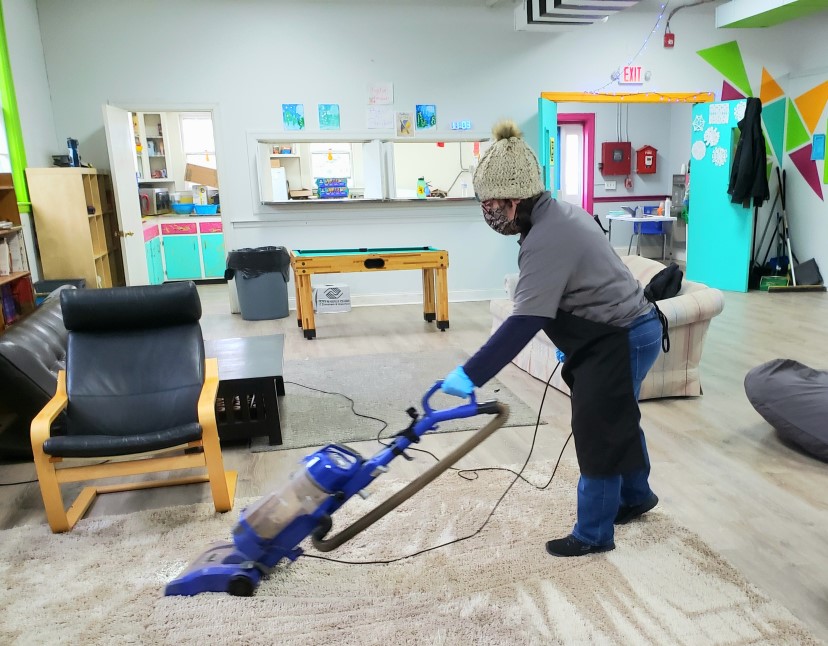 Promoting Independence with Career Services
Career Services are provided for individuals with developmental disabilities interested in job opportunities, volunteering, internships, and exploring vocational options. Communitas partners with community businesses that offer work opportunities in Group Supported Employment. One-on-one coaching and support are available for individuals who are work-ready and gainfully employed.
Integrated Groups
Integrated Groups provide support to those who prefer the option of attending our Day Program's Life Skills learning, as well as opportunities to participate in vocational services. This model incorporates a split schedule throughout the week, therefore individuals can participate in both Life Skills and Career Services. The Career Services component of Integrated Groups provides four areas of support that can be used as stepping stones to employment.
Individual Support
One-on-one coaching and support are available for Individuals who are work-ready or gainfully employed. Moreover, one-on-one job seeking and coaching takes place by using personal profile career plans. When an individual is successful in finding paid employment and sufficiently skilled at their position, hands-on support will fade out – but oversight of progress will continue to be monitored for overall work support.
Community Based Day Support
Community-Based Day Support is available for those who want to learn about vocational opportunities. This includes visiting job sites, vocational skill-building, and gaining community connections. Examples include certified training opportunities in money management, or developing safety skills in the home provided by local firefighters at a Sheriff Department.
Group Employment
Our Group Employment Program supports a number of individuals in paid employment opportunities with staff on-hand to support group-based work. Communitas has partnerships with a number of companies that provide Group Employment opportunities to our Communitas Career Services.