Tim Foley, Associate Director Wakefield Career Services
Hoang Nguyen gets excited about work. She looks forward to her days in Wakefield Career Services! Her current job collecting trash from all the wastebaskets and sanitizing the door handles in the building. COVID still hasn't totally disappeared and Hoang knows that her efforts are for good purposes in helping to keep the facility clean and safe for others.
Hoang has great skills that have served her well in becoming a detailed and thorough worker. She is polite, focused and serious about doing quality work. If you were to compliment Hoang on how well she is doing a particular task such as sanitizing a door handle, she may offer specific information on how she learned and give credit to who taught her the technique.
Hoang seems happiest when working. When others may choose to take a day off work on their birthday, Hoang is already talking about wanting to work on her birthday. Hoang also has an artistic/craft side where she enjoys drawing, painting on canvases that she makes from scratch and makes wallets out of duct tape.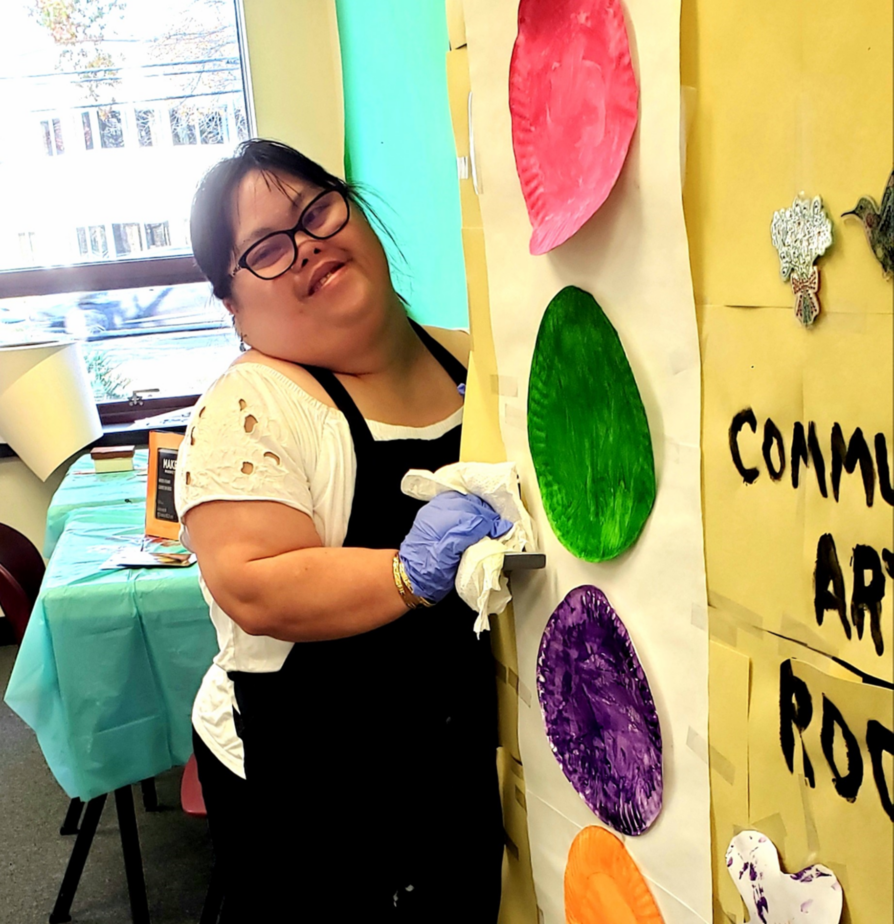 Promoting Independence with Career Services
Communitas partners with community businesses that offer work opportunities in Group Supported Employment. One-on-one coaching and support are available for individuals who are work-ready and gainfully employed.
Integrated Groups
Integrated Groups are designed to provide support to those who prefer the option of attending Life Skills learning, as well as opportunities to participate in vocational services. This model incorporates a split schedule throughout the week; individuals can participate in both Life Skills and Career Services. Integrated Groups provides four areas of support that are interchangeable and can be used as stepping stones to progress with vocational skills.
Individual Support
One-on-one coaching and support are available for Individuals who are work-ready or gainfully employed. One-on-one job seeking and coaching takes place by using personal profile career plans. When an individual is successful in finding paid employment and sufficiently skilled at their position, hands-on support will fade out.
Community Based Day Support
This includes visiting job sites, vocational skill-building, and gaining community connections. Examples include certified training opportunities in money management, or developing safety skills in the home provided by local firefighters at a Sheriff Department.
Group Employment
Our Group Employment Program supports a number of individuals in paid employment opportunities with staff on-hand to support group-based work. Communitas has partnerships with a number of companies that provide Group Employment opportunities to our Communitas Career Services.