Communitas is excited to announce we are now able to provide residents and their families with the opportunity for visitation on a limited basis.
Following recommended guidelines from the Department of Developmental Services (DDS), families are now able to connect with their loved ones again through our Residential Visitation guidelines. Please read the following guidelines if you have a loved one in our Residential Services.
Visitation Policy for DDS Residential Programs last updated 9/23/2020.The official DDS guidelines are available as a downloadable PDF file at the bottom of this page.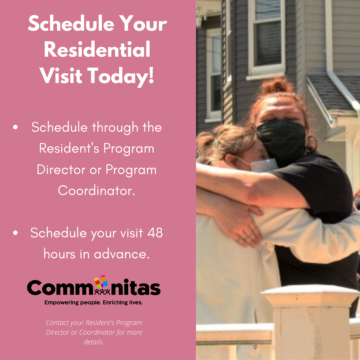 Outside visitation is determined to be when certain precautions (such as social distancing and face coverings) are followed strictly. Below are a number of guidelines Communitas will follow for visitation at the Communitas Residential Program.
Schedule Residential Visits by appointment 48 hours in advance for both on-site and off-site visitation. You can schedule via contacting the Program Director or Program Coordinator. Visitations both on-site and off-site must be staggered because there are necessary preparations that need to be done between visits. This is to insure the safety of residents, staff and visiting guardians / families.
Indoor Visitation
Programs may allow indoor visitation, if certain precautions are followed:
In home visitation will be limited to 30 minutes.
The Program where the resident lives must not have any confirmed or suspected COVID-19 cases in residents or staff in the past 14 days.
Face masks or face coverings must always be worn by visitors and staff; residents will also be encouraged to wear face coverings during an indoor visit if they can tolerate it and do so safely.
A visitor must remain at least 6 feet from the resident and staff member(s) to the maximum extent feasible. (Programs will have 6ft markings on the floor in the visitation area.)
Specific protocols will be developed for each home in order to determine what is the safest way to have indoor visitation. Depending on the physical environment of the home and risks to the other individuals and staff, it may be necessary to have indoor visitation take place at an alternative indoor location outside the home.
Programs must implement a schedule for frequent cleaning and disinfection of the designated indoor visitation space, including cleaning high-touch surfaces using an appropriate EPA-registered disinfectant.
Cleaning and disinfecting will be done after each in home visit in the space where visitation took place.
Families or loved ones who wish to come into the home to clean their bedrooms or exchange clothing is not part of in-home visitation. Staff are responsible for cleaning and disinfecting all bedrooms. Other arrangements will need to be made in terms of picking up and dropping off clothes.
Designated Outdoor Area
Visitors will spend time in an accessible outdoor area such as the yard, patio, open porches, parking lot or driveway.
As a visitor, entering the home is not allowed.
Limitations on Visitors
Visits are limited to 2 visitors at a time.
Depending on the circumstance visitation may be limited to one person.
Children and at-risk people are strongly encouraged to remain home.
Only one visit can occur at a group home at one time.
Communitas will only allow one visit taking place on the same day.
Failure to adhere to these guidelines will result in the termination of the visit.
Visitor Screening
It is required to go through our screening process before visiting with a resident.

Visitors are not permitted to visit if they have symptoms of COVID-19. Symptoms include fever, cough and difficulty breathing,

Other symptoms may include fatigue, headache, unexplained rash, aches and pains, nasal congestion, runny nose, sore throat, abdominal pain, vomiting, diarrhea, chills, or loss of taste or smell.

Anyone with a fever (100.0 F or higher) is not permitted to visit the home.

Visitors are not permitted to visit if they have tested positive for COVID-19 in the past 14 days or if they have been ordered by a health care professional / public health official to quarantine due to exposure.

Any individual participating in visitation and develops the above signs / symptoms of COVID-19 within 2 days of visitation must immediately notify the program:

Date they were on site
Individuals they were in contact with
Locations where the visit occurred.

All visitors will be required to sign the visitor's log and the visitor's sign off sheet.
Face Masks
Wearing a face covering mask during the visit is required.

Visitors should bring their own face covering, in order to preserve the program's PPE supply. If a visitor does not have a face covering, one will be provided.

Residents are encouraged to wear face coverings if they can tolerate it and do so safely.
At this time Communitas will being restricting visitors to adults 18 or older.
Face coverings must be worn properly in accordance with CDC guidance covering the nose and mouth.
Anyone refusing to wear a face covering / mask will not be allowed to visit.
Social Distancing and Supervision
Individuals should maintain social distancing to the maximum extent possible during the visit.
In order to reduce risk of transmission, individuals should:

Use alcohol-based hand sanitizer with at least 60% alcohol before and after contact
Avoid close face-to-face contact and kissing
Hug with faces in opposite directions
Limit the duration of close physical contact

A program staff member trained in resident safety and infection control will remain with resident during the visit.
Eating Together During the Visit
Do not share off the same plate or drink by mouth from the same container.
Each person should use their own eating utensils and not share plates, cups, or utensils.
Remaining food that has been opened can not go into the residential program.
Please give unopened food and snacks for the individual to staff so they may label food by individual's name.
All left over food will need to taken back by the visitor or discarded at the end of the visit
Scheduling Visits in Advance
Coordinate all visits through the Resident's Program Director or Program Coordinator at least 48 hours in advance of visit.
Visits are limited to no more than 30 minutes to limit exposure and ensure staff can assist with the visit.
A program may limit the length of any visit; including visit days, hours and the number of times during a day or week a resident may be visited.
It is preferential to have visits occur at the same time each week for planning purposes.
Spontaneous visits are not allowed.
Quarantined Homes and Isolated Residents
Visitation is not permitted to anyone currently under isolation. Anyone under isolation is confirmed or presumed as Covid-19 positive and therefore quarantined because of close / household contact.
Off-Site Visitation
Individuals may go with family or loved ones for an off-site visit, including an
overnight visit subject to the following:

The resident is not currently under precautionary Covid-19 isolation.
The resident and visitor(s) must not have signs or symptoms of COVID-19 and must not have a
temperature above 100.0 deg F.
The family member or loved one must sign an attestation form, attesting that all individuals who the resident plans on visiting are free from any symptoms of COVID19:

fever
cough
shortness of breath
sore throat
muscle pain
chills
loss of taste or smell
have not been in close contact with anyone with a confirmed or suspected case of COVID-19 in the past 14 days.


Close contact will be prevented with anyone who has not been screened for symptoms of COVID-19.
All visitors and the resident must wear a face mask or covering if they can do so safely while unable to socially distance; indoors including in the family home, and in other enclosed areas such as a car.
If staying overnight, the resident will sleep in their own room, or if not possible, at least six feet from others, to the greatest extent possible.
Please notify our residential program and seek further assistance if an individual starts to display symptoms of illness or comes into contact with a Covid-19 positive person while on visit.
Follow infection control protocols during the entirety of the visit.
Please provide names and contact information for any person the resident is anticipated to come into contact with on the visit in case contact tracing becomes necessary. Please communicate modifications to this section of the form upon return.
All off-site visits must be planned and coordinated with the Program Director or Program Coordinator at least 48 hours in advance of the visit.

Close contact: Being within 6 feet of a COVID-19 positive person for at least 10 minutes, or has been in direct contact with secretions (sharing utensils, being coughed on, etc.) while they were symptomatic or within the 48 hours before symptom onset.
Families or loved ones must monitor themselves and the individual for COVID-19 symptoms during the visit. Program staff will screen the individual for COVID-19 symptoms and fever before they return to the residential program.

If the resident shows symptoms of COVID-19 the family must seek medical attention and contact the residential program to discuss where the individual may be safely isolated. The individual may not be able to return to the residence until they are free of symptoms.
Any individual who participates in a visit with a resident and develops signs and symptoms of COVID-19 within 2 days after the visit must immediately notify the program of the date of the visit, the individuals they were in contact with, and the locations where the visit occurred.

To the extent possible, off-site visits and activities should occur outdoors where resident and visitors are able to maintain social distancing.
Please minimize time spent in highly populated, public areas or other areas where the ability to social distance may be limited.
Family or loved ones should inform Program staff if the individual traveled out of state during the visit.
Off-site visits are not permitted for a resident under isolation.
Programs should immediately screen any resident and staff who had contact with the visitor for the level of exposure and follow up with the program's medical staff or the resident's care provider.
Once the resident returns to the home, he or she should be proactively monitored for any symptoms of COVID-19 each day for fourteen days.
Visitation Policies Subject to Change
DDS, a residential program, or provider may have to change this policy with little notice as required by the Massachusetts Department of Public Health or local boards of health.
Providers, facilities, or group homes may continue to prohibit visitation on a case-by-case basis, if a resident or staff tests positive or shows symptoms of illness, or it is determined visitation cannot safely be accommodated for residents, visitors, or staff.
We will disinfect surfaces after each visit using an EPA-approved disinfectant for use against SARS-CoV-2 after each visit.
As we continue to develop ways to stay connected, we encourage you to stay in touch with your loved ones via phone calls, FaceTime or Zoom. Each program has a tablet to Zoom with friends and families. If you have any questions, please contact your Residential Director or Residential Coordinator.