Did you know that you can support Communitas when you shop online at Amazon? Amazon Smile is an easy way that you can have up to 0.5% of your eligible Amazon purchase donated to Communitas, and all at no additional cost to you. What a fantastic way to support the programs you know and love!
If you're looking for a simple, automatic way to continue supporting Communitas, this is it! You shop as you normally would on the site, at no extra cost to you, and you don't need to make a separate account. It's very easy to set up by following these simple instructions below.
How do I use Amazon Smile?
Simply point your browser-of-choice to Amazon.Smile.Com and log into your Amazon account they way you normally would. You'll be able to tell you're shopping at the correct page if you see the Smile logo in the top left corner of the page.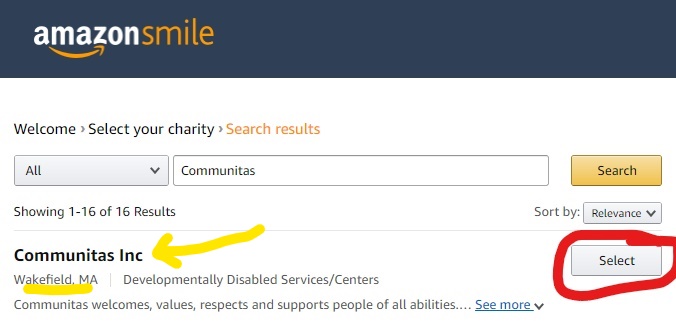 Click "Get Started" and then find Communitas.
First, type in Communitas. Then make sure you're selecting Communitas Inc located in Wakefield MA.
Click "Select", and you're all set!
What if I use the app when I shop on Amazon?
No worries, you can can still use Amazon Smile on your app!
Update to the latest version of the Amazon Shopping app on your phone by tapping on App Store (for iOS) or Google Play for Android.
Join Amazon Smile by following the instructions above from any browser.
On your phone, open the Amazon app and find your settings.
Tap on 'Amazon Smile' and follow the on-screen instructions to activate on your phone.
Shop and donate to Communitas at the same time!
You can always chose to donate directly to Communitas as well, by visiting our Donation Page. As always, we thank you for your support of our Communitas programs!